Clutag Poetry publishes pamphlets and book collections. We pride ourselves on high but not precious production values. Especially, we seek to resist with our books the tendency in established and large lists towards a homogenised one-design-fits-all approach. We seek in an unaffected foursquare way to respect poetry and the individuality of those who make it.
These values are also to be found in the pages of ARCHIPELAGO where we have published among others Douglas Dunn, Seamus Heaney, Geoffrey Hill, Mick Imlah, Alan Jenkins, Michael Longley, Derek Mahon, Andrew Motion, Bernard O'Donoghue, Alice Oswald.
To purchase these and other Clutag Press publications please visit the Clutag Shop.
Clutag Five Poems Series
'These are hand-sewn artefacts, impressive inside and out. . . . McNeillie is always a serious poet, but that does not preclude instances of bone-dry wit . . . Jenkins's "leaflet" also full of losses, a sense of how things might be and were. These are restrained, bleakly fortifying poems.'
Times Literary Supplement
Limited editions of 100, hand-sewn. Copies are made on receipt of orders. Signed copies carry £5.00 surcharge. Further titles to be announced.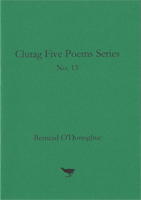 No. 13 Five Poems by Bernard O'Donoghue (Clutag Press, 2016) 
'Beara Skylines'
'Reading from the back'
'Pruning in August'
'Home Sickness'
'Qui ante nos, qui post nos'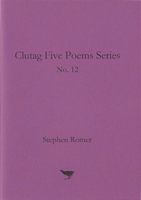 No. 12 Five Poems by Stephen Romer (Clutag Press, 2016) 
'Apples'
'Roman Stele, Ravenna'
'Poussin'
'Scrambling after Ruskin'
'Le Ferronière'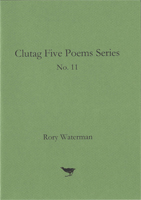 No. 11 Five Poems by Rory Waterman (Clutag Press, 2016) 
'Family'
'Driving Through the Pit Town'
'The Walled Garden'
'Beached Stars'
'Ave Maria'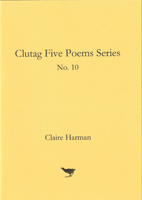 No. 10 Five Poems by Claire Harman (Clutag Press, 2016) 
'The Mighty Hudson'
'Tenderness'
'The Burden'
'On "Unself-conscious"'
'Leave-alone'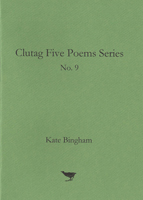 No. 9 Five Poems by Kate Bingham (Clutag Press, 2016) 
'St Petrock's'
'In the Lane'
'The Deer'
'Sitka'
'House and Field'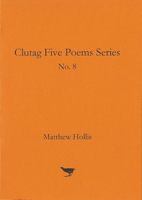 No. 8 Five Poems: 'East' by Matthew Hollis (Clutag Press, 2016) 
'Anglia'
'Winterton Ness'
'Iken'
'A Harnser for James'
'The Island'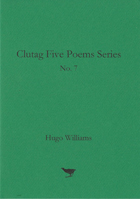 No. 7 Five Poems by Hugo Williams (Clutag Press, 2016) 
'The Conductor Raises His Arms'
'African Nurses'
'A New Country'
'TV Times'
'After Midnight'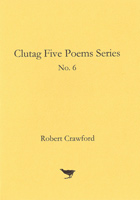 No. 6 Five Poems: 'Cities' by Robert Crawford (Clutag Press, 2016) 
'Levity'
'Camera Obscura'
'San Andreas'
'Gramps'
'Mandelbox City'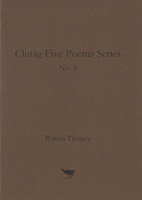 No. 5 Five Poems by Róisín Tierney (Clutag Press, 2016) 
'The Finding'
'The X-Ray Reporting Room'
'Ataxia'
'Arco Iris'
'The Planets'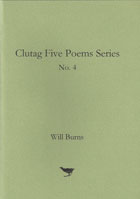 No. 4 Five Poems by Will Burns (Clutag Press, 2016) 
'Market Street'
'Bird Station'
'May 9th'
'Drive South Listening to Country Music'
'Mobile Home'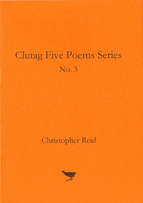 No. 3 Five Poems by Christopher Reid (Clutag Press, 2015) 
'Arboristics'
'Running at the Sea'
'Sophie Among the Elements'
'Quoting Heraclitus in Bishops Stortford'
'Game Theory at Newton Abbott'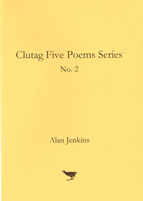 No. 2 Five Poems by Alan Jenkins (Clutag Press, 2015) 
'Beckett's Wharf'
'Last Appointment'
'Player's Navy'
'G. & A. Bowden'
'Upper Mall'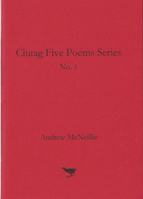 No. 1 Five Poems by Andrew McNeillie (Clutag Press, 2015) 
'A Visit'
'Lunch with Seamus'
'The Age of Irrelevance'
'Meditation in Paternoster Square'
'Night and Day'
Clutag Poetry Leaflets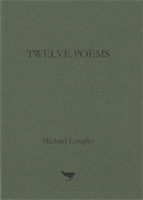 Twelve Poems by Michael Longley (Clutag Press, 2016) 
| | |
| --- | --- |
| 'Another Portrait' | 'Dusty Bluebells' |
| 'Fathers' | 'Engagements' |
| 'Memory' | 'Dorothy Molloy' |
| 'Woodbines' | 'Bird-Watching' |
| 'Survivors' | 'Corncrakes' |
| 'Badger' | 'Age' |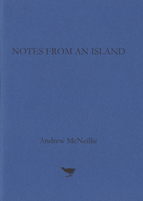 Notes from an Island by Andrew McNeillie (Clutag Press, 2015) 
A thirteen-part short work of prose and poems about island life, and languages, present and past.
Poetry Books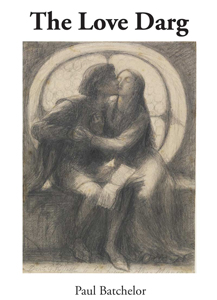 The Love Darg, Paul Batchelor (Clutag Press, 2014) 
ISBN 978-0-9575626-1-5
Paul Batchelor is the most accomplished poet of his generation. His first collection, The Sinking Road, introduced a poet of formal and thematic range, as well as great technical skill. In The Love Darg (the title is an expression meaning 'unpaid labour'), Batchelor draws with sharp intelligence on his working-class upbringing in the North of England during the period when the mining industry was being destroyed, and on the legacy this left him in adulthood. His subjects range from civic unrest to the natural world, from family tradition to erotic misadventure. Avoiding sentimentality and easy declarations of solidarity, these poems resound with formal elegance and emotional candour.
Paul Batchelor was born in Northumberland. His first collection of poems, The Sinking Road, was published by Bloodaxe in 2008. He has received an Eric Gregory Award from the Society of Authors, the Andrew Waterhouse Award, the Arthur Welton Award from the Authors Foundation, the Times Stephen Spender Prize for Translation, and the Edwin Morgan International Poetry Competition.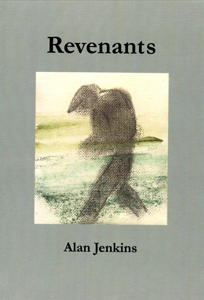 Revenants, Alan Jenkins (Clutag Press, 2013) 
ISBN 978-0-9565432-7-1
The revenants in this, Alan Jenkins's sixth collection, come out of childhood and the recent past, out of the long shadow of war and its legacy of silence, out of Old English and contemporary England, in a gathering of unforgettably poignant poems. Speaking of lives lived quietly in the suburbs of London or ended among the savagery of Homs, they bring powerful intimations of mortality, messages and memories from lost worlds and times, in a range of exacting forms and skilfully managed registers.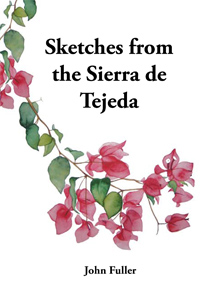 Sketches from the Sierra de Tejeda, John Fuller (Clutag Press, 2013) 
ISBN 978-0-9565432-8-8
The sonnet can be an elevated and metaphysical form, as in the sequences of the Elizabethans, but it can also record the minutiae of life, as the Romantic poets discovered. John Fuller's new sequence combines something of these two traditions: it tracks a deep seasonal awareness of existence in time and place, but is also simply an annotation of observations of natural life, —the fruit, trees, insects, mountains, and wine of Andalusia. The sonnets are like cautious pencil sketches for some larger but postponed statement.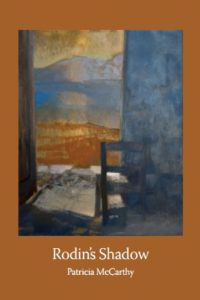 Rodin's Shadow, Patricia McCarthy (Clutag Press/Agenda Editions 2012)
ISBN: 978-1-908527-09-7
In this extraordinary, extended sequence of dramatic monologues, interspersed with a little narration, Patricia McCarthy gets uncannily inside the lives of Rodin's mistresses: Camille Claudel, Gwen John, Rose Beuret, and also Clara Westhoff, the neglected sculptress 'wife' of Rilke, who, for a time, was Rodin's secretary. This is a most impressively sustained  work – almost a hundred pages long – shifting between rhyme and free verse with compelling momentum and impassioned feeling for its tragic subjects.
Patricia McCarthy is editor of the literary magazine Agenda. Her new book is a Clutag Press/Agenda Editions co-publication. It is available for purchase from the Agenda Poetry website.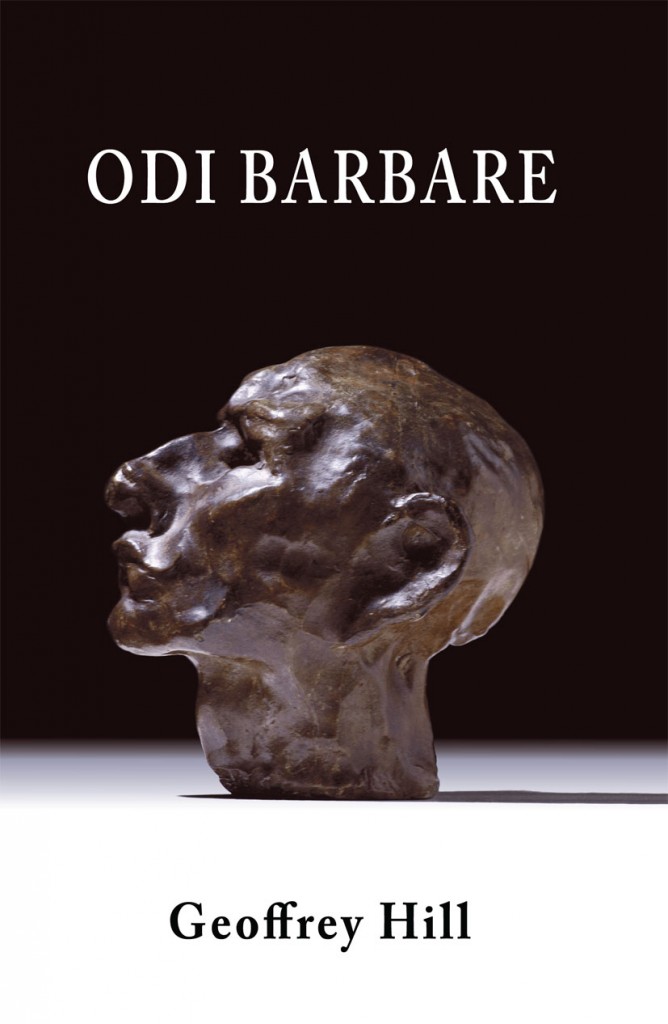 ODI BARBARE,  Geoffrey Hill (Clutag Press, 2012) 
ISBN 978-0-9565432-5-7
Odi Barbare is the second in Geoffrey Hill's sequence The Daybooks, and the third to be published. It was preceded by Daybooks III: Oraclau |Oracles (2010) and Daybooks IV: Clavics (2011). The others in the series, to appear in the Collected Poems 1952-2012 from Oxford University Press in 2013, are: Al Tempo de' Tremuoti and Liber Illustrium Virorum.
In the present sequence Hill uses the 'Sapphic' verse form  – 're-cadencing' the example of Sir Philip Sidney – with extraordinary discipline and expressive energy to address 'this dying│Time that bends so beautifully around things' and now beats back 'more than it delivers', work that requires 'intelligent patience' but wants the time such patience needs.
Laurels and Donkeys, Andrew Motion (Clutag Press, 2010)
ISBN 978-0-9565432-1-9
This profoundly moving new book is a sequence of war poems referring to 20th – and 21st-century conflicts that have involved British forces: among them, the First World War, the Second World War, the war in Iraq and the war in Afghanistan. Several of the poems are based on memories of the poet's father, who landed at D-day and fought in France and Germany; many more take the words of other soldiers (from books, interviews and suchlike) to create 'found poems' that are in a sense collaborations between the author and his source.
The result is lyric poetry which for all its emotional impact, and deeply-felt sympathy, might be described as 'ego-less' – in the sense that the question of 'who wrote it?' is always subordinate to the question 'what is the subject?'. The answer, as all readers will discover, is what Wilfred Owen famously described as 'the pity of war': its horror and pathos, as well as its relentless continuance.
Sean Power who took the cover image is a freelance photographer currently studying photo-journalism at the London College of Communication. He has visited Afghanistan on several occasions. His work has appeared in a number of national newspapers, most notably The Times. Prior to becoming a photo-journalist, Sean served as a Royal Marines Commando, undertaking operational tours of both Afghanistan and Iraq. He is currently a serving member of the Royal Marines Reserve.
After production costs have been met at least half of any income Clutag Press receives from the sale of Laurels and Donkeys will be donated to the Royal Marines' 'Recovery – Rehabilitation – Reintegration' Charity.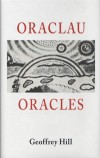 ORACLAU | ORACLES , Geoffrey Hill (Clutag Press, 2010)
ISBN 978-0-9553476-9-6
Since the publication of A Treatise of Civil Power in 2007, Geoffrey Hill has completed five new collections. Under the general title The Daybooks, they include Al Tempo de' Tremuoti, Odi Barbare, Oraclau |Oracles, and Clavics.
Clutag Press plans to issue Daybooks II: Odi Barbare in 2011. The five volumes constitute the final section of Hill's Collected Poems 1952-2012, scheduled for publication by Oxford University Press in 2013.
Geoffrey Hill's ORACLAU | ORACLES was reviewed by M Wynn Thomas in the Guardian on 16th October.
"Oraclau/Oracles is indeed a troubling and challenging volume of "devices", a remarkable emblem book for our times by one of the most considerable, and accordingly formidable, poets of our age."
Click here to read the full review online.
Poetry Pamphlets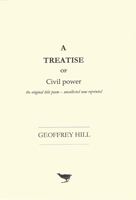 A Treatise of Civil Power, Geoffrey Hill, Reprinted (Clutag Press, 2016) 
This is the forty-two stanza title poem to the original Clutag Press 'booklet' as Hill referred to it. It was not included in the book of the same name, except through a few dispersed fragments. Nor was it included in the collected poems.

From Another Island, Pàdraig Macaoidh (Clutag Press, 2010)
Pàdraig Macaoidh is a native Gaelic speaker from the Isle of Lewis. His pamphlet offers poems in English, including the title poem, and in Gaelic, for which en face English versions are provided by the author, and in one instance by Ciaran Carson. Together the poems redouble the otherness of their title, playing brilliantly on the cultural ironies that accrue when an ancient language faces up to and bears down upon a world (a colonial politics), that has for centuries conspired with all its might to silence it.
The poems speak back to the past with the blend of tenderness and satire that has always characterised poetry in the Gaelic and the Scottish traditions. Here are poems on themes as old as love and as topical as the Iraq War, on the phenomenon of the selkie and other legendary matters, on leaving St Kilda (with words from the St Kildan dialect), on a latter-day Alasdair Mac Mhaighstir Alasdair, and on language itself.
Iain Crichton Smith was given to saying that you could fit all true Gaelic speakers in an old-fashioned phone box. With Pàdraig Macaoidh on the other end of the line, it's not hard to imagine why they're in there. One can only imagine queues forming elsewhere, down innumerable island and highland roads, eager to lift the receiver from its cradle.
With the publication of this remarkable pamphlet we are pleased to announce that those queues might now be joined at all points of the compass, up and down the entire archipelago. Note on the author: Pàdraig Macaoidh was until recently a Research Fellow at the Seamus Heaney Centre, Queen's University, Belfast, writing among other things a study of Sorley MacLean due out in 2010. He currently works as a broadcast journalist for BBC Alba.
Limited edition of 100 copies.

The Lost World, Alan Jenkins (Clutag Press, 2010)
'No human ingenuity could suggest a means of bridging the chasm which yawned between ourselves and our past lives. One instant had altered the whole conditions of our existence….' (Arthur Conan Doyle, The Lost World). Looked back on from middle age, childhood and the adults who peopled it seem as fabulous as the dinosaurs of Conan Doyle's famous tale. For the parents of anyone born, like Alan Jenkins, in England in the 1950s, the 'one instant' that had 'altered the whole conditions of their existence' was still in the recent past: a terrifyingly destructive war that was in turn taking on, to a new generation, the shape of myth or fable….Jenkins's seven poems speak of the confusions, sorrows, embarrassments and poignant ironies of a particular moment, in particular circumstances, but do so with such powerful honesty that these 'past lives' are made vividly present.
Alan Jenkins is Deputy Editor of the Times Literary Supplement. He has published five books of poetry, the most recent A Shorter Life (2005) being shortlisted for the Forward Prize.
Limited edition of 100 copies.

The Green Rose, Alan Gillis (Clutag Press, 2010) 
'This carefully orchestrated collection showcases a striking new development in the work of a fast-emerging poet. From the North of Ireland, but now living in Edinburgh, deeply in tune with his forbearers and contemporaries, yet freshly independent, Gillis offers a vibrant new perspective on our changing archipelago. The Green Rose distils, in concentrated form, a poetic that powerfully combines range and variety with unity and resonance. The vivid sweep of Gillis's stanzas combine direct speech and sonorous cadence in reverberating verse which, in the grand Irish tradition, is both good craic and a caustic examination of the cracks within society and the self. Published here for the first time, the ten poems will later appear in Here Comes the Night, from The Gallery Press.
Alan Gillis teaches at Edinburgh University. His first collection, Somebody, Somewhere (2004) was short-listed for the Irish Times Poetry Now Award and received the Rupert and Eithne Strong Award for best first collection. Hawks and Doves (2007) was shortlisted for the T. S. Eliot Prize.
Limited edition of 100 copies.

FLOOD, Paul Abbott (Clutag Press, 2008)
Paul Abbott's poem FLOOD is a 'Waste Land' for the twenty-first century, a timely and daring debut in the disaster genre, by a twenty-one-year-old in his final year at Oxford. Those who have read the first issue of Clutag's magazine ARCHIPELAGO will have enjoyed a snapshot of the poem in its pages. Now it is offered complete in ten sections, illustrated with eight superbly grainy drawings by Gail McNeillie. The vision here – 'an Epic Newsflash' – is one of post-apocalyptic catastrophe 'couched,' we're told in a prefatory note 'somewhat in the film-cutting style of Soviet montage theory (which I read about on Wikipedia)'.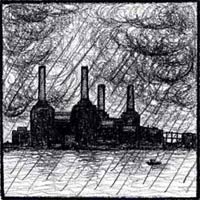 Streetwise, slangy, irreverent, intensely self-aware (and well-read), the poet-speaker steals a boat (in very un-Wordsworthian circumstances), jumpstarts its outboard, and survives long enough to tell his tale 'Of London, of Global Warming, of HEAT magazine… of squalid Thames… and of its fall'. The shades of William Blake and John Milton – ghost writers – act as Virgilian guides, ushering him towards 'the first day of the rest of my death', at Battersea Power Station (the service entrance to hell).
 Limited edition of 100 copies.

The Camouflage School, Tom Paulin (Clutag Press, 2007) 
The five poems in this important collection – 'Sidney Philip' (a poem about Philip Larkin, his father and the war), 'Battle of the Atlantic', 'My Name is Edward Wadsworth', 'Convoy to Archangel', 'Noor Inayat Khan (S.O.E. Dachau)' – are all published here for the first time. They show Tom Paulin writing as movingly, passionately, and inventively as ever he has written before. Part of his continuing 'loose-leaf' epic of the Second World War, begun in 2002 with The Invasion Handbook, these poems bear unflinching, compassionate witness to the tragedy of war, and in particular the special horrors of war at sea.
Paulin's canvas is as wide as the Atlantic – that 'great lens… watching us till the storms / we crave burl and wrap us / from the U-boat's single eyes'. But his response to individual suffering could not be more particular, more moving or profound, more intuitive in its sympathies, more felt in its self-awareness, whether regarding a drowned merchant seaman 'Known unto God', or a victim of Dachau. These poems are strikingly graphic and brilliantly asociative in their visual imagery.
The collection's title derives from a poem about the artist Edward Wadsworth. Recruited with others – 'Vorticists and Futurists all' – to a project 'deep in the Liverpool docks' devoted to creating 'dazzle-ships – / so that what was wide / was also tall', Wadsworth and his colleagues are said to have brought their studios 'and Europe's galleria' to the Atlantic. Their purpose there is to create a visual dérèglement, to foil the periscope's searching eye. Throughout the collection, but most notably in this poem, where modernity at its most barbarous press-gangs modernism into service, aesthetics and poetics engage, as the tragic subject of war dictates, with ideas of artistic integrity, perception and conscience.
Limited edition of 250 copies.

DIEHARD, Mick Imlah (Clutag Press, 2006)
Mick Imlah's first gathering of poems for some years, DIEHARD derives from a larger, major work in hand called 'The Lost Leader'. These are extraordinary poems of wit and high intelligence, executed with formidable technical skill and honest feeling. They are like a lost poetic history of Scotland brought to light, a modern ironic history, from AD 500, by way of a guided tour of Iona, to yesterday at a Dumfries bus depot, from Fergus Mor to John Smith, from Michael Scot to Walter Scott. Imlah's dramatising power, his eloquence, and gift for narration never fail him. Nor do his ear for the demotic and his delight in the comic.
There are excursions here, military and other, to Italy, Spain and England, tracing with sardonic humour the fortunes of Scotland's sons and daughters, at home and abroad, through the centuries. Together the ten poems in this selection: 'I (AD 500)', 'Michael Scot', 'Braveheart', 'Selkirk', 'The Queen's Maries', 'The Honours', 'Diehard', 'London Scottish', 'The Four Marys of Melrose': probe into Edwin Muir's assertion (Imlah's epigraph) that '… no poet in Scotland now can take as his inspiration the folk impulse that created the ballads, the people's songs, and the legends of Mary Stuart and Prince Charlie. He has no choice but to be at once more individual and more local.'
The individuality of Imlah's voice is not in question. But 'individual' and 'local' are hardly the measure of DIEHARD. These poems belong in the great tradition of Scottish poetry and of poetry the world over.
Limited edition of 200 copies.

A Lament For The Makers, Anne Stevenson (Clutag Press, 2006)
'…it is about time that she was recognized as one of the finest poets writing in English today.'  – Times Literary Supplement
Author's Preface:
A LAMENT FOR THE MAKERS is a dream poem conceived three years ago while I was looking out over the golden beech trees of October, reading Arthur Burrell's version of Langland's Piers Plowman in the Everyman Edition of 1912. The poem also owes its existence to Thomas Sackville's The Complaint of Henrie, Duke of Buckingham, (c. 1563) and to the selection of medieval lyrics represented in the first volume of W.H. Auden's and Norman Holmes Person's Poets of the English Language, published by The Viking Press (New York) in 1950. I have made this treasury of poems my life's companion ever since my mother presented me with its five small red volumes on my graduation from high school in that same year. Behind the Medieval dream tradition in which Chaucer and Langland wrote, of course, stands the Colossus, Dante, whose Divina Commedia I read in Italian (with a crib in the Temple Classics) when an undergraduate at the University of Michigan; those old editions of Dante, too, are still in my possession.
The Lament, however, began to take its present form after a real dream. When Peter Redgrove died in the summer of 2003, The Times newspaper asked me to write an obituary, a request I had to refuse for all sorts of reasons. In a dream that night, Peter appeared and like a latter-day Virgil undertook to explain the nature of the afterlife. I cannot claim, however, that what I dreamed is what I quote him as saying in the poem. That came later, after I had re-read Redgrove's poems and thought about them. Part II was written in the summer and early autumn of 2005, and the poets represented there were either friends, like Frances Horovitz, or poets I especially admire (Ted Hughes, Edward Thomas, Dylan Thomas, Philip Larkin), or poets I happened to find lines to fit. I do not consider that this Lament for the Makers is complete, but surely I have worked that three-line stanza – flexible as it is – hard enough. My present plan is to write further 'movements' in different shapes, moods and tempi, perhaps about different poets or different kinds of 'makers'. To write any more, though, will take months and years of time, and I am not sure how much of that precious commodity I still have at my disposal. At the end of this 'episode' the narrator wakes from a night of troubled dreams to watch storm clouds roll away into a dawn that will, of course, lead to another night and different dreams. This seems a good place to halt, look around and listen out for whatever or whoever it is that next applies for a little space on the left bank of Lethe.
Limited edition of 200 copies.

Arkwork with Artwork, Andrew McNeillie and Julian Bell (Clutag Press, 2006)
'Arkwork', a series of eleven sonnets by Andrew McNeillie, finds in the loss of the Stranraer-Larne ferry in January 1953, in which 133 passengers and crew drowned, a focus for a reflection on the literary history of shipwreck, death, and survival. The poems are superbly illustrated in dramatic drawings by the artist Julian Bell.
(vii)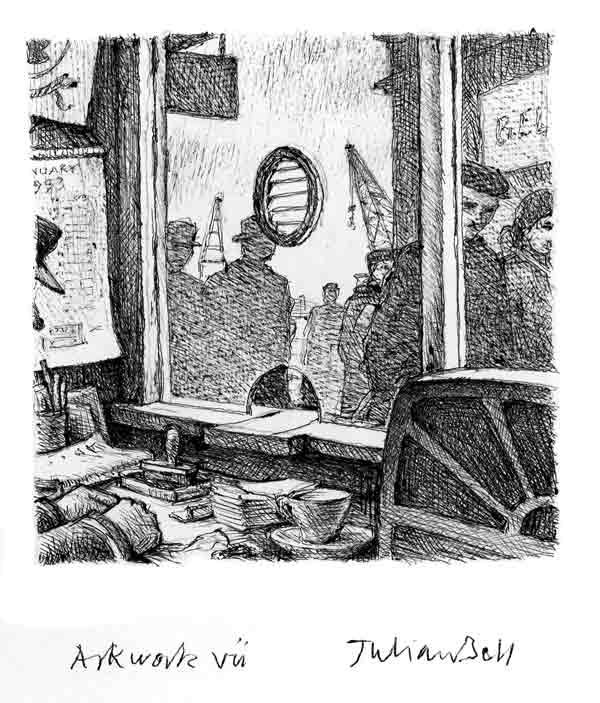 ALTOGETHER ELSEWHERE
They went aboard in ones and twos,
in no great shape or order. The usual
kind of crowd and would be casual
but for those quayside feeling queasy blues.
They were thrown together… (Excuse me.)
But they'd need more than dry Ulster humour
to keep their spirits above water,
as they gasped and struggled in the sea.
Meanwhile, deep inland, the steading hove to.
As if a poem on the shipping forecast
was that moment conceiving. The radio
announced the disaster, in patrician English:
the old assault and innocence lost
that poetry is heir to, and the Irish.
  Limited edition of 100 copies.

The Solitary Life, John Fuller (Clutag Press, 2005)
A modern master of the sonnet form meditates on life and love, art and death, in a sequence of thirty-five sonnets, full of sombre depths and light discovering 'The welcome shape of things as what they are', inspired by the life at Vaucluse of Francesco Petrarch, in the seven-hundredth anniversary year of the great Italian poet's birth.
Limited edition of 200 copies.

A Shiver, Seamus Heaney (Clutag Press, 2005)
CONTENTS: nine new poems: 'Hö'fn', 'Horace and the Thunder', 'Helmet', 'Testimony: The Ajax Incident', 'Testimony: Anahorish 1944', 'The Aerodrome', 'A Shiver', 'Out of Shot', 'The Tollund Man in Springtime'.
How Seamus Heaney has always held his ground, through thick and thin, is something of a miracle, like the preservation in a Danish peat-bog of the Tollund Man, now revisited in this collection ('The Tollund Man in Springtime') and given a clean bill of health. Here in A Shiver Heaney's ground is reaffirmed, found and kept and a stance maintained, in lifelong love, though glaciers melt and Jupiter (after Horace, Odes I, 34) finds ground zero: 'Anything can happen, the tallest things / Be overturned, those high places daunted, / Those overlooked regarded.'  These subtle and quietly allusive poems speak the violence of the new world order in a world itself in peril of oblivion as the polar ice-caps melt. There is sufficient blood and gore here to send a shiver down your spine, from a scene in a slaughter house, to Ajax rampaging (do not seek to identify him). In the title poem a shiver is sent up the shaft of a sledge-hammer, in a paradoxical celebration of creative power, 'witholdable at will', capable of making 'air of a wall'. Martial code words infiltrate these poems, like shields in a 'testudo', or cleaved to the helmet of an Irish-American fireman-poet called BREEN. The Americans are on the march too, though at a discreet distance, in 1944, bound for Normandy. The nine powerful (and power-full) poems that constitute A Shiver signal the onset of a new campaign, as Heaney in age, enters the fray again.
Limited edition of 200 copies.

A Treatise of Civil Power, Geoffrey Hill (Clutag Press, 2005)
A major gathering of new work by one of the great poets, nowhere else published nor imminent in other forthcoming collections by Hill (January 2005, January 2006), comprising: 'ON READING Milton and the English Revolution' (12 x six-line stanzas); 'To the Lord Protector Cromwell' (x4 sonnets); 'A Treatise of Civil Power' (42 x eight-line stanzas); 'Coda' (8 x eight-line stanzas); 'ON READING Burke on Empire, Liberty, and Reform' (4 x seven-line stanzas); 'ON READING Blake: Prophet Against Empire' (45 lines in ten irregular stanzas); 'ON READING Hazlitt: Lectures on the English Comic Writers' (4 x six line stanzas); and 'A Cloud in Aquila' (6 x four line stanzas).
In his own words Geoffrey Hill has become a very different kind of poet from the one his first readers encountered almost half a century ago. At any rate, we have to acknowledge a dramatic sea-change in productivity. But plus ça change is a reliable coinage in the assaying of poetry. This is true however new-minted or made-new the voice ('I'll / give them lyric voice'), however dazzling the belated largesse. Here in these new poems are the familiar preoccupations with the good old cause: of language and authority; conscience and power; commerce and society (let's add, to underline the point); history and memory; poetry and integrity; poetry and music; poetry and the 'etymology of the gutter'; and poetry as atonement, not the least, by which Hill has always held himself and his readers to account. In the fluency or liquidity of this late work, the 'endless wrangle / between truth and metre' spawns ruminations of mesmerising range in which the orchestration of inspired obliquities or 'ceaseless allusion', shot through with dark humour, reaches such a pitch of mastery that one has to say, late or early, Hill has never written better. Watching in the wings are several writers to whom Hill nods in gratitude, not just Milton and 'my god' Ben Jonson, or Robert Herrick, or William Blake, as might not surprise us, but also Robert Lowell, and perhaps most interesting of all to see acknowledged John Berryman, whose Dream Songs are surely a ghostly presence here.
It would be fitting to speak of Hill's recent return to Milton (for example, via 'Comus'), if he had ever left him. Many will not know, and so it is worth pointing out, that the title poem of this new gathering 'A Treatise of Civil Power' derives from a Miltonic pamphlet of 1659 noted for a plainness of style unusual in Milton's prose. As Milton figures here, so too does Cromwell, addressed in four sonnets whose chronological range brings us, as elsewhere in this collection, to the topical, to the Ireland of Veronica Guerin, 'Dublin drug-heads / and Drogheda'. Those readers especially devoted to Hill's midland kingdom, as celebrated in Mercian Hymns and revisited most recently in Orchards of Syon, will find here that same poet, who 'had a calling for England', his kite 'in the myriad-snagged / crabapple crown, the cane cross-piece flailing; / a dark wind visible even deep in the hedge' and register with delight the deployment of 'crown' and 'cross-piece' and know their weight and perhaps recall, to come round full circle, Milton's 'darkness visible' in Paradise Lost.
Limited edition of 200 copies.
To purchase these and other Clutag Press publications please visit the Clutag Shop.