Clutag is interested in prose memoir and writing about nature, place and landscape – effectively the kind of non-fiction writing that appears in ARCHIPELAGO.
To purchase these and other Clutag Press publications please visit the Clutag Shop.
Clutag Essay Series
Limited editions of 100, hand-sewn. Copies are made on receipt of orders. Signed copies carry £5.00 surcharge. Further titles to be announced.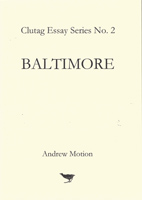 No. 2 Baltimore  by Andrew Motion (Clutag Press, 2017) 
On the poet's leaving his native land to settle in America. An ideal companion to his contribution to the Clutag Five Poems series.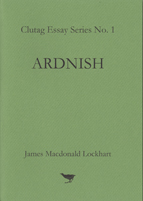 No 1. Ardnish by James Macdonald Lockhart (Clutag Press, 2015) 
A highly original exercise in ornithological observation and the historical investigation of place in which lyricism and factual precision combine to remarkable effect.
Publications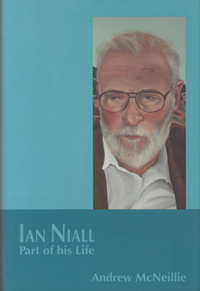 Ian Niall: Part of his Life by Andrew McNeillie (Clutag Press, 2007) 
'…We owe Andrew McNeillie a great debt for reintroducing us to the most neglected of writers.'
Douglas Gifford
Ian Niall was the pen name of John McNeillie (1916-2002). Between them they wrote more than forty books, over a period of as many years, from 1939 when at twenty-two John McNeillie published Wigtown Ploughman: Part of His Life, with Putnam of London and New York, a Scottish classic, a book that raised a national controversy, leading to housing reform. A new paperback edition, edited and introduced by Andrew McNeillie, is due from the Edinburgh publisher Birlinn in Autumn 2012.
As Ian Niall, author of the novel No Resting Place (1948), filmed in Ireland by Paul Rotha, he would go on to establish himself as one of the finest rural writers and observers of the natural world of his time, beginning in 1950 with The Poacher's Handbook and reaching another high point in 1967 with his memoir A Galloway Childhood. He would also return to forms of fiction, now masterfully grounded in the facts of actual lives. Throughout, for forty years, Ian Niall contributed the weekly 'Countryman's Notes' to Country Life magazine, acquiring a devoted readership that spanned the world.
But little did the majority of his readers know about the man behind the name. For he kept much to himself, a man happiest in the wilderness, but with the greatest feeling for common humanity.
The book contains a 32 page colour plate section.
For more information on Ian Niall/John McNeillie click here.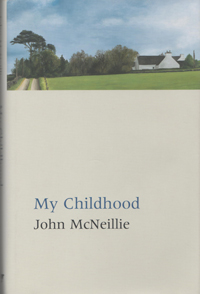 My Childhood by John McNeillie (Clutag Press, 2004) 
'I can remember quite clearly now a recuperating soldier singing me Gaelic songs but I can also remember small, insignificant things – the sound of a porridge pot bubbling; talk on a wet Sunday when the hills were veiled in mist; the clatter and laughter of dancers on the tiled floor of the kitchen when the vigour of their gyrations set up a draught that made the oil-lamp smoke.'
So John McNeillie concludes the Preface to this the original and until recently mislaid and forgotten version of his account of his childhood and youth-time at North Clutag farm. One of the finest pieces of writing he produced in a lifetime's output of some forty books, it is now published for the first time.
Accompanying it are four hitherto unpublished tales, written around 1939 and 1940, shortly after their author, at the tender age of twenty-two, caused a sensation with Wigtown Ploughman: Part of his life (1939). 'Boy in the Beanfield', 'Tales of the Smith', 'The Cancer Doctor', and 'Did you ever hear the like?' shed fascinating light on elements in the memoir and reveal as nothing else John McNeillie wrote the story-telling culture in which his gift was forged.
Click here to read Robert Macfarlane's review of My Childhood in the TLS, from 19th November 2004.

To purchase these and other Clutag Press publications please visit the Clutag Shop.