Description
Paul Abbott's poem FLOOD is a 'Waste Land' for the twenty-first century, a timely and daring debut in the disaster genre, by a twenty-one-year-old in his final year at Oxford. Those who have read the first issue of Clutag's magazine ARCHIPELAGO will have enjoyed a snapshot of the poem in its pages. Now it is offered complete in ten sections, illustrated with eight superbly grainy drawings by Gail McNeillie. The vision here – 'an Epic Newsflash' – is one of post-apocalyptic catastrophe 'couched,' we're told in a prefatory note 'somewhat in the film-cutting style of Soviet montage theory (which I read about on Wikipedia)'.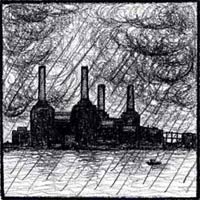 Streetwise, slangy, irreverent, intensely self-aware (and well-read), the poet-speaker steals a boat (in very un-Wordsworthian circumstances), jumpstarts its outboard, and survives long enough to tell his tale 'Of London, of Global Warming, of HEAT magazine… of squalid Thames… and of its fall'. The shades of William Blake and John Milton – ghost writers – act as Virgilian guides, ushering him towards 'the first day of the rest of my death', at Battersea Power Station (the service entrance to hell).
 Limited edition of 100 copies.
(Clutag Press, 2008)