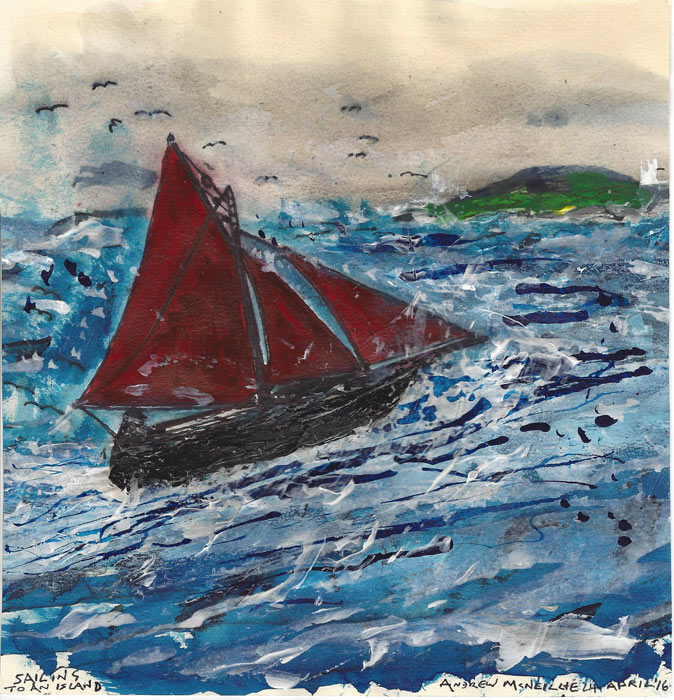 A week ago at the time of writing this, I had an email from Philip Marsden, one of our prized Archipelago contributors. He told me: 'I leave for Dingle at dawn on Friday'. It was the stirring opening to a poem, for sure, the ring of Auden's 'Leave for Cape Wrath tonight' about it, though none of the period desperation. By now he'll have that first leg of his single-handed voyage from Falmouth to the Hebrides behind him. We hope to rendezvous up there somewhere weather and time permitting. But whether we can or cannot, he will have had the better part of it by many a sea-mile. I can only imagine what poignant and vigorous wonders there'll be in his log.
Just as I heard from him I was sorting out a trip of my own, to take part in the Inishbofin 'Island Conversations' Festival (2-6 June 2016), an event organized by Peadar King. I believe I'll be there in the company of Norman Ackroyd, Michael Longley, Bernard O'Donoghue (all long-term supporters of Archipelago) and a host of others, and I thought it the moment to give you advance notice, to encourage you to book your place and support this vital fledgling project.
Inishbofin is of course indelibly associated with the Irish poet Richard Murphy and above all his landmark-seamark volume Sailing to an Island (1963). Murphy is the unacknowledged legislator behind the Archipelago venture, which itself first surfaced in November 1968, at Cill Rónáin harbour, Árainn – long-ago now when the fishing, while not what it once was, was far better than it is now in the threadbare seas of today.
Dancing Days for Fishing
She holds nothing steady on land or sea today.
But what-ho! proclaims, What-ho! her name.
Her compass needle dances a delicate ballet
pirouetting en pointe. 'Where, where, where …'
the gowned waves chorus.
Gulls in mobs clamour in the gods.
The mountains pitch and roll
like whales breaching among clouds
and the island at its mooring
spouts and spouts again all morning.
She parts the seas, thumbing through
for half-remembered lines,
myopic as late mackerel blinded by the light –
as jigging in mid-air they used to come
when time could count itself so lucky
that it could catch a hand and a tilly hand …
that it could see so many all at once
to string through the gills
a youth's share, as nevermore
to hang on a handlebar for an encore.
Andrew McNeillie
If you do not know Murphy's work – shame on you, until you obtain his collected poems from Antony Farrell at the Lilliput Press (which includes some notes on the poems by the poet, and a piece by Bernard O'Donoghue on 'Pat Cloherty's Version of The Maisie').
I'm counting on seeing you on Cleggan quay, waiting for the ferry. Don't let me down, now, and remember, carpe diem:
I wait on the quay
And the quay waits.
There's many a thing more lasting than person
I hear it say
At no great length.
9th May 2016