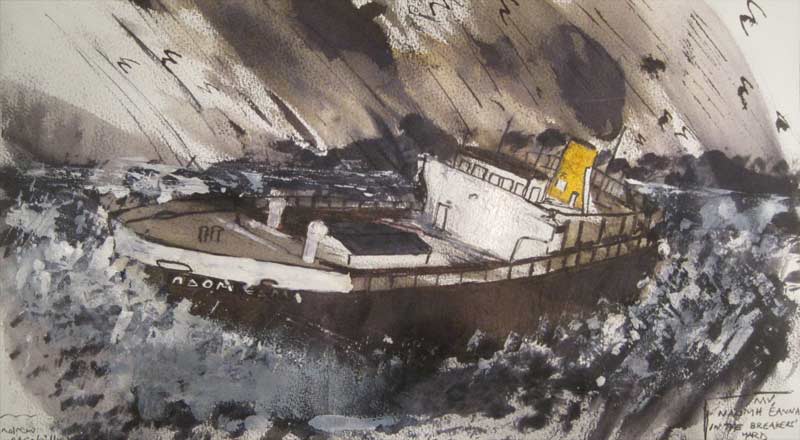 from breakers' yard to breaker's yard . . .?
To all who knew the Aran Islands before the Celtic Tiger came and went, leaving such havoc in its wake, the ferry MV Naomh Éanna (1956-86) is an icon in the aesthetics of the voyage and of saner times. When I went out to live on Inis Mór in November 1968 she was not in service but in Dublin for a Board of Trade Survey. I had to go out in a three-hour crossing aboard a trawler from Ros a' Mhil in Connemara, in a Storm 10.The Naomh Éanna would not have set out in such conditions. (She was top heavy at the best of times.) Once on the island I had no intention of setting foot on the mainland again until my money ran out, which it did by the following autumn. But in that time of considerable hardship I learned to eat my words, and like the majority of the islanders realised why Galway existed. It was so that we might renew ourselves courtesy of the Naomh Éanna. I can think of nothing more stirring than a dawn departure from Galway harbour for a sailing to Cill Rónáin, via 'the islands' as they used to say, from the continental vantage point of Inis Mór. But subjectivities apart, the Naomh Éanna's story, one with many stories in its hold, is a vital part of the history of the Aran Islands, and one yet to be researched and properly told. The hour is late but it is never too late – and not too late to save her from the breaker's yard. If you would like to support her cause, visit her via FACEBOOK, and please refer her friends to this Blog at dev.clutagpress.com
I have written about the Naomh Éanna and sung her praises in An Aran Keening (2001) and in two poems in Nevermore (2000), one 'Prayer to Naomh Éanna' : 'Sailing down the breakers' yard on the highest winter tide'; and the other, as here:
TO THE  NAOMH ÉANNA:
FOUND RUSTING IN CHARLOTTE QUAY
26 May 2000
Lost among the Dublin quays I found you lost and might not
had I not been lost, by chance, and late about to miss my sailing.
I was your lover once but turned and lost you in the crowd
of stormy seas, and skies too strong for gulls, that day you stood me up
in wild November. They said you'd gone to Dublin then
for a Board of Trade survey. I accepted there were other
men in your life, in every port, and hit the drunken skies by trawler.
But this time, lost in my thirty-year-long labyrinth, and quays,
and old warehousing, and far from thinking of you, I turned and,
suddenly: I saw you, up against the wall. The eye is forever young.
I knew you. For proof I had a camera. But my camera had no film in.
I had to fly or miss my sailing. This was a fleeting fate who else
could share in, now, among the living, and fathom to its end,
and call to mind such sailing we had known, of waves and seabirds
at coming home or leaving: circumlunar, making headway as
making love, on any B or C sailing: home via the islands or
via the islands returning? I knew you, at first sight, unnamed,
through all decay, my sight so young. But we've no hope of ever sailing
now, unless aboard a poem like this, at the harbour wall,
already rusting, and both of us too late for it: not sailing, just listing,
in a basin. Dank reflection, off Pearse Street, and all Dublin
sailing past us as we fail, the breeze in your rigging frail
compared with those Atlantic gales, when the islands
heaved at their mooring, and your high prow so proud,
pitched prouder than ever, in the brunt of the weather,
that I cannot quite believe my eyes I ever saw you, then or now.
Andrew McNeillie
19 February 2014