Since Archipelago 12 sailed into the world, we've all been stood down, though the wheelhouse is still spinning in its wake and beside itself. I gave the Tannahill Lecture at Glasgow University in February: 'Theatres in the Round', about islands, from Inis Mór to Whalsay, and their lives, in print, in image, and in themselves. The lecture was subsequently edited into five parts and published in the culture pages of the Scottish daily the National – a fine institution, very much of the times, proud to be dismissed by the quisling Michael Gove as 'The worst newspaper in the world.' Meanwhile Brexit glooms over Scotland
the latest cauchemar out of England.
Send it home to think again:
Enlightened Scotland must Remain,
by auld alliance, European . . .
as our resident ballad singer puts it.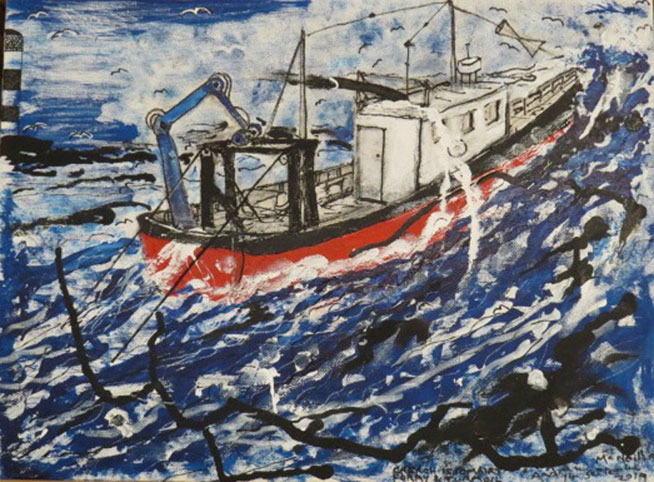 'Creach is iomairt' – foray and turmoil – from Seeker Reaper by George Campbell Hay.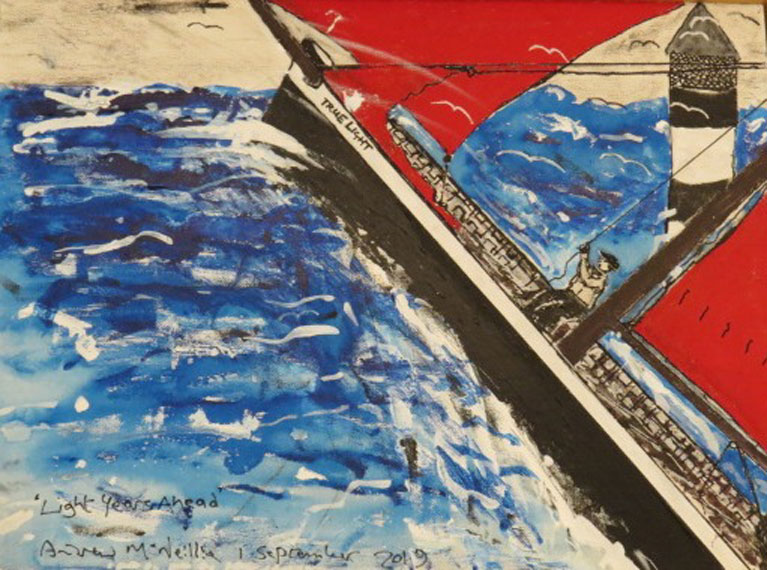 'Light Years Ahead' Richard Murphy's True Light about to leave the planet.
And I was in Dublin for a discussion on Richard Murphy at Trinity College and helping launch Ben Keatinge's collection Making Integral: Critical Essays on Richard Murphy published by Cork University Press, an essential purchase for anyone devoted to Murphy's lore.
It would all have been marvellous if the number 13 hadn't kept on flashing before my eyes, like a neon tube on the blink. A symptom even a few days on Inis Mór in October couldn't banish. As you see, for therapy, I've been indulging in some daubing with my painting and decorating kit. Who knows where, when or how it will all end.
Otherwise, I write to remind you that Crexmas is coming and the Corncrake's getting fat. Time to solve some gift headaches while stocks last.