i.m. Máiréad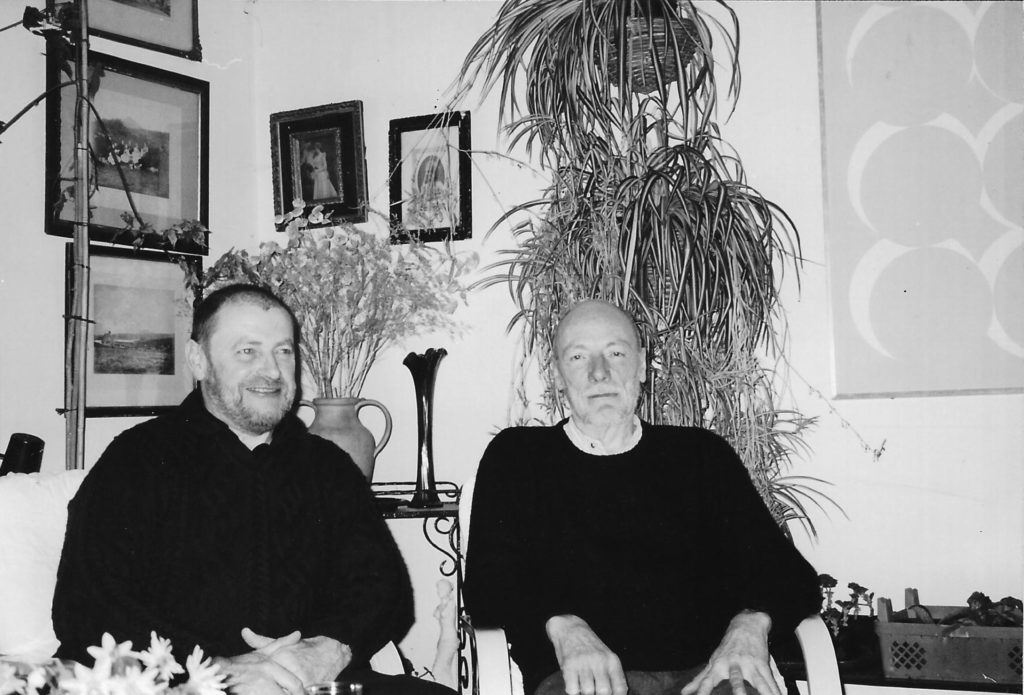 After the obituaries, the éloges and sail-shaped remembrances.
After the crowds have left on the boat
and the pollution of their footfall dies away with the evening.
After autumn's equinox begins the purer dream of winter –
that's when to settle in to work and when I've thought of you
most often, in the capital of monochrome, at Fearann an Choirce,
in your storm-walled house with its empty window-frame,
overlooking the west. And after all now, I find myself
thinking of you all the time – bald, and silent as a Buddha
as you've become, staring from a photo on my wall,
from the night we first met, as we'll never meet again,
to enjoy our squawks, in honour of the sgarbh and the Rock.
The last wise man gone, another ghost in the ranks up there,
gathered with Thoreau and Melville, to watch below
worst fears for Earth and humankind come true,
in our wireless shapeless world, bound by the heptagonal sea,
as the covid strikes us down, as, bitter irony of ironies,
it struck you; and puts us in our place as we deserve,
to rethink our time in space, and dwell on who knows what to come?
Andrew McNeillie
Tim was a visionary genius and an unacknowledged legislator in the making of ARCHIPELAGO, in which he appeared only three times. His commitments to completing the Connemara Trilogy were too compelling for him to think about anything else. When he was done with that enormous labour he was tired of topographical writing and wanted to write more experimentally, somewhat in the spirit of his book My Time in Space. See 'The Seanachaí and the Database'(Archipelago 7),'The Gods of the Neale' (Archipelago 9), 'The Centre of Gravity' (Archipelago 10).
Tim died of the Covid 19 virus. He had been suffering from Parkinson's disease for quite a while. His wife, inspiration and collaborator Máiréiad had died two weeks before. She too had been seriously unwell for some time. When I say her name I have one memory of her that always springs to mind at once. I'd been visiting them in Roundstone, and after breakfast, on a sunny morning, walked with Máiréiad in the sea-garden there. The waves lapped on the rocks just a short step away, the sun sparkling in them. She told me about her current reading. Her studies in Greek were another intense preoccupation. She was a most voracious reader, and a serious self-schooled language student, fluent in a number of languages, including of course Irish. Suddenly she started speaking in Greek. It is a most extraordinary noise to hear anywhere, but by the sea, with many small islands nearby, it seems preternatural. Or so it did that morning. I didn't know it until she was done, but she was declaiming the opening to the Oresteian trilogy of Aeschylus. It felt like an epiphany of some kind, something out of this world. Now they are both out of this world and it is the greatest personal loss and to our community.