Update:
Another superb new review of Lilliput Press's Archipelago: A Reader (Edited by Nicholas Allen and Fiona Stafford) by Dan MacCarthy was published on 29th January 2022 in the Irish Examiner. Click here to read the review.
Further press coverage in the Irish Times from Saturday, December 4th 2021  (click on the image or  click here for a more legible version)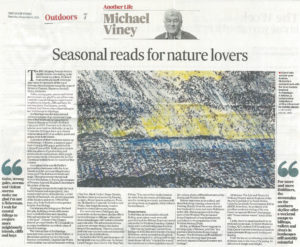 Omnium-gatherum
Here to remind you of Lilliput Press's Archipelago: A Reader, edited by Nicholas Allen and Fiona Stafford, and launched in Convocation House, Divinity School, The Bodleian Library, Oxford, on 10 November, and by Zoom from the Dublin Literary Festival, the next day. Surely, the ideal Christmas present for all those of an archipelagic persuasion. Here's what M. C. of the Times Literary Supplement  had to say about it:

Deird
re Ni Chonghaile made a landmark/seamark contribution to Archipelago 12, 'Greim an fhir bháite' (The grip of the drowned man). It is included in Archipelago: A Reader. Now she has an important new book out from University of Wisconsin Press.
This book is a must for all serious students, and amateurs like myself, of Aran Islands cultural history. I guess that for many, as for me, J. M. Synge's association with the islands and his musical interest in the people and their practice of Sean-nós singing (unaccompanied 'old style' song in Irish) represents just about the most we know about the subject, apart from any experience of contemporary performance on the islands and elsewhere in Connemara.
Ni Chonghaile has previously published an important essay on 'Synge as Song Collector' (Irish University Review). The account she now provides in Collecting Music in the Aran Islands is a story on a different scale, and a fascinating one.  Her book deals in detail with four historical collections including the seminal work of Douglas Hyde, most notably his Love Songs of Connacht that had great influence on Synge. It affords vital insights for the non-Irish speaker into what actually went on musically in Ireland, through (and orally, as must be, prior to) the nineteenth- and into the twentieth century, and the world West of the Shannon above all.
What part the practices of collecting and translating played in saving the Irish language is complex, if not impossible, to assess, but current 'old style' musical revivalism is strong among a new generation of native Irish language speakers. Without the devoted efforts of the collectors and their translations, however uneven and varied, whatever their understanding of, or ambitions for, what they were doing, all might have been lost on the air into which the songs were sung. There would only be work handed down in the last outposts of oral transmission.
Perhaps the odds are stacked against Ni Chonghaile's important book reaching the wider readership it deserves. It falls victim to a typical University Press monograph pricing policy that puts it well beyond the means of most readers. Though it must be said that in place of the physical book itself, it is possible to buy access to a digital version. Reading on screen nowadays comes as second nature to many. So we must congratulate UWP warmly for making the work available in both formats, the one far less expensive, if less malleable, than the other.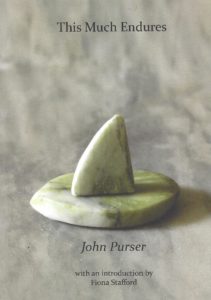 Another contributor to Issue 12, with a poem in Gaelic, addressed to Rody Gorman, was the polymathic wonder – composer, scholar, poet, Hebridean crofter – John Purser. He has just published a collection of poems (with Kennedy & Boyd, Edinburgh), poems as expressive of their author's soon-to-be octogenarian joie-de-vivre and generosity spirit as anyone could wish for.
The book's title This Much Endures derives from a poem in the series of Amoretti, poems of love and celebration, quite un-Spenserian in kind, the most characteristically witty and sharply observed of which, for my money, is no. XXVI 'Birthday Suit'. There are a good many dedicatory poems here, celebrating friendship, one to our very own Archipelago mainstay, Alan Riach. Fiona Stafford provides an introduction to the book, as perceptive as it is warm-hearted towards this most remarkable human being.
Readers should also pursue Purser's CD Dreaming of Islands, with its settings of work by Sorley MacLean and by Iain Crichton Smith, and other compositions based on songs from the pìobaireachd tradition. Purser is staggeringly accomplished in many musical forms of making and performance, and a great scholar of the Celtic world too, as may be discovered most readily in his online collaboration with Meg Bateman: Window to the West: Culture and Environment in the Scottish Gàidhealtachd, a veritable treasure trove for the archipelagically minded.