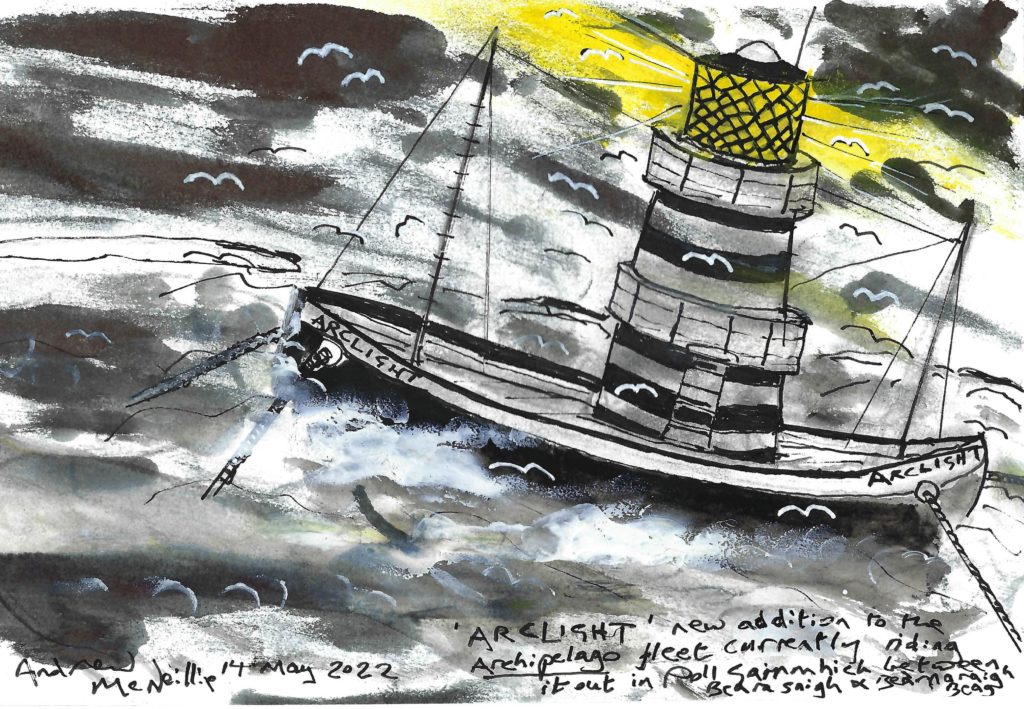 Welcome aboard the latest addition to the Archipelago fleet. One of our readers came upon her in Dundee harbour on, to be precise, 9 March 2021 CDE (Covid Delta Era) and after a phone-call with the Northern Lighthouse Board, we sealed the deal, well within our Tax year, enabling us to write her off at once, as we prepare to finance 2:2. She was ours in return for twelve copies of Archipelago 2:1 on condition we tow her away promptly. We haggled, starting the bidding at six copies, but the Board would have none of it. So twelve copies it was. A lick of paint and a few new fittings and there we were ready to put out.
It was immediately obvious where 'ARCLIGHT' would be most needed. So we went round Scotland, beyond Cape Wrath and brought her down to Poll Gairnmhick, where she's currently riding it out between Bearasaigh and Beàrnaraigh Beag, to be on hand should our intrepid kayaker David Gange get into difficulties, in his current explorations, and to help steer him home, should he find himself returning to Port Nis (where he's been lodging) after nightfall. Issue 2:2 awaits his log with unprecedented excitement.
As soon as we hear from the Professor that he's tackling the Flannans, the Skipper will up anchor (gruelling work: there are four of them) and head there. The old boy's otherwise uncharacteristically happy, fishing for his supper with a handline.
Meanwhile, there's not much we can do in the Wheelhouse, but read and write and do arithmetic, on the bank account. To help pass the time the insufferably vain and egotistical author of Striking a Match in a Storm : New & Collected Poems tunes in to You-Tube to watch himself read a selection of his poems, under the sharp eye of no-nonsense Professor Alan Riach (the best part of the show). If you missed Carcanet's zoom launch of the book, you can watch the event on YouTube here. If you didn't miss it, then of course you'll want to see it again, over and over.
Archipelago 2:2 looks to be shaping up well. We'll keep you posted.